20 Aug

'Get Roohed' With The Best Live Music Band In Dubai

I inherited an ear and feel of the music and along with that a restless spirit. I think that is what makes ROOH so different. Just as I begin to get comfortable singing a certain tune, there is that voice within me that pushes me to do something different. "Comfort zone" is not a state that I have been in; ever!   

–  Anupam Nair, Lead Singer, ROOH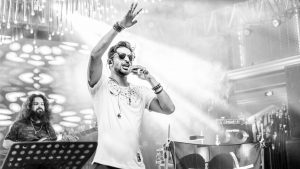 There is an old Hindi song that goes- Har Dil Jo Pyar Karega, Woh Gaana Gayega, Deewana Saekadon Mei Pehchaana Jayega. That is what ROOH wants – to be a deewana who hums the melodies lying buried in the hearts of people. When ROOH performs it's more about the musical experience than the music itself
There are many music bands for hire in Dubai. Pretty good ones too. Then what is it that makes ROOH stand apart from the other musicians in Dubai ? ROOH connects the audience with their soulful music. Unless you strike a resonance with the music playing in the hearts of people, unless you awaken the deewana in them, one can't create a magical experience.
A situation or an occasion is unimaginable without music. When the ROOH live music band performs it becomes crucial that the music strikes a rapport with the audience. Music bands for weddings in India and wedding entertainment in Dubai goes strictly on the choice of the couple to be and what is trending that season. The ROOH band always keeps updated about the latest music but unlike other bands in Dubai, they make the audience participate in the event and those who have seen them perform will vouch for that.
The first thing is, like the other entertainers in Dubai, ROOH band figures out the general profile of the audience. The choice of music of the host of the function and some of the main guests go a long way in determining the pulse and the outcome of the event. 
That is where ROOH makes all the difference as one of the best wedding music bands. ROOH recognizes how special the event is and promises to make the event a long lasting memory for everyone attending it with their cheerful music tunes. These incredible musicians provide nothing less than a quality live entertainment night.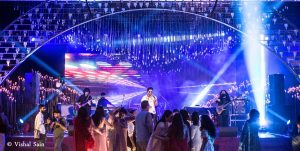 ROOH is a truly authentic live music band that knows how to pump up the crowd at an event or party. They take everyone's favourite tunes and get them up enjoying themselves on the dance floor. Your guests will love the energy, enthusiasm and vibe they create to get them in the party mood. Awarded as the Best Asian Band, ROOH is a great choice for weddings or reception, concert, corporate events or any party.
Hire Rooh band for the perfect live music entertainment for your special event.