06 Jan

Aditee and Gope | Destination Wedding in Thailand

Gope and Aditee were both born in Dubai, UAE, and grew up there. But their paths never crossed during those years. "Surprisingly we never knew or had even heard of one another. We went to different schools, and Gope settled in the US for his further studies and business, while I have lived in Dubai all my life," shares Aditee.

Both sides of the family heard of Gope and Aditee through a common family friend. "Our first conversation was over the phone and we met for the first time on April 1 last year. Although our interests and personalities are quite opposite to each other, we connected over our individual adventures in different cities worldwide as both of us are avid travelers. We had upcoming travel plans at that time so were able to meet next after a month or so but we kept in touch. Things were heading in the right direction and in a few weeks, Gope surprised me with a proposal," recounts Aditee.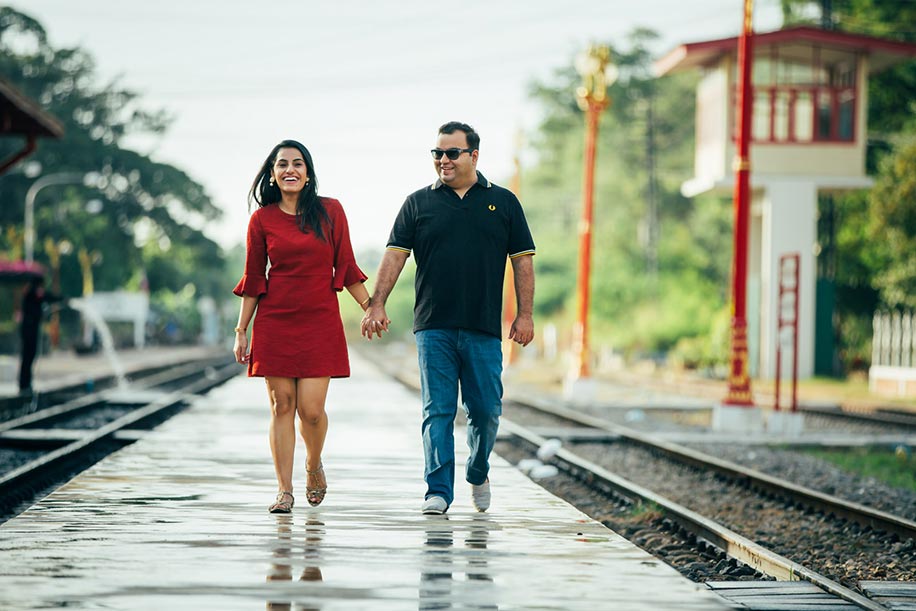 Gope did not initially want a destination wedding, but Aditee wanted one. "Let's just say the 'Mrs' is always right!" declares Aditee with a smile. The couple chose to tie the knot at Sheraton Hua Hin Resort & Spa in Thailand. Aditee says that they were very happy with the way things turned out and that their guests loved the hotel and its lush, picture-perfect environs.
Aditee recommends Thailand as a great destination wedding option due to the fabled Thai hospitality, ease of arranging logistics and ample choice of Indian wedding planners and décor experts to pick from. "Moreover, most things here are very reasonably priced," shares Aditee.
The sprawling Sheraton Hua Hin has hosted over 90 Indian weddings and is well equipped to handle all the reverly, logistics, crowd and rituals of a typical Indian wedding thanks to its staff. "We would like to give a special shout out to Ms. Pimsiri from the hotel's Events Department for accommodating all our requests and ensuring everything went smoothly," adds a grateful Aditee.
The January wedding took place over the course of three nights this year. Their wedding planning was done by Mantra Events. "Mrs. Sally Mangharam and her team spearheaded our wedding and hospitality arrangements. Their attention to every little detail was explicit and we could not thank them enough for making #adopewedding so successful and memorable for everyone," says Aditee.
"On the first day, our friends and family arrived in the afternoon and were welcomed by a Thai troupe of musicians and dancers. The same night, we organised a dinner for everyone at the Deck Restaurant. For this welcome dinner, we chose Thai colours like lavender and purple and local ornaments to give our guests an authentic Thai atmosphere," recounts Aditee. After the dinner, a separate 'after party' was conceptualised for the couple's friends and cousins with an all white-theme named 'Nuts for Neon' at the hotel's Black club. Aditee adds, "Meanwhile, the adults had their own private party at the ballroom with singer Ashish Thadani from Jakarta that made them feel 'Forever Young'".
For the welcome dinner, Aditee wore a blue velvet crop top and printed skirt from Falguni & Shane Peacock while Gope donned a blazer from Just Men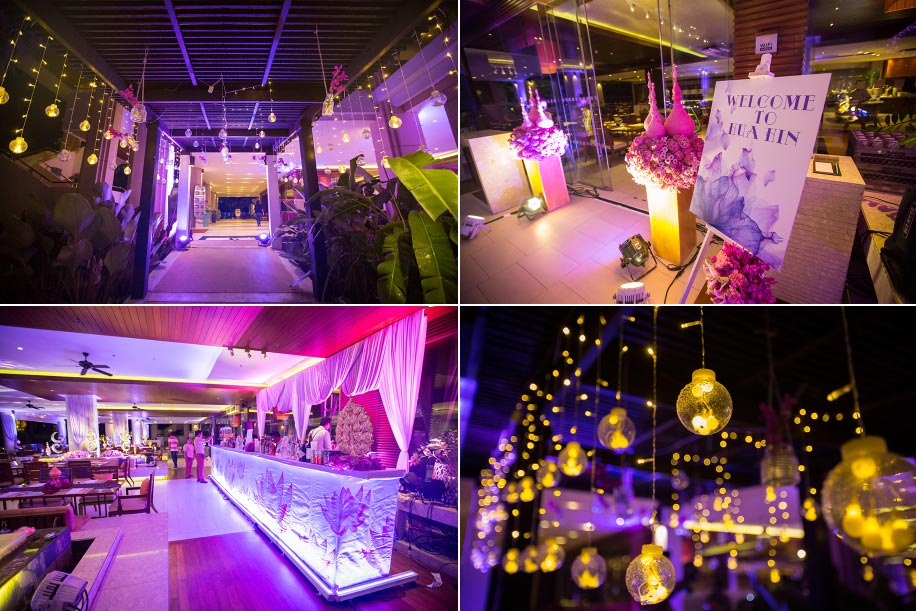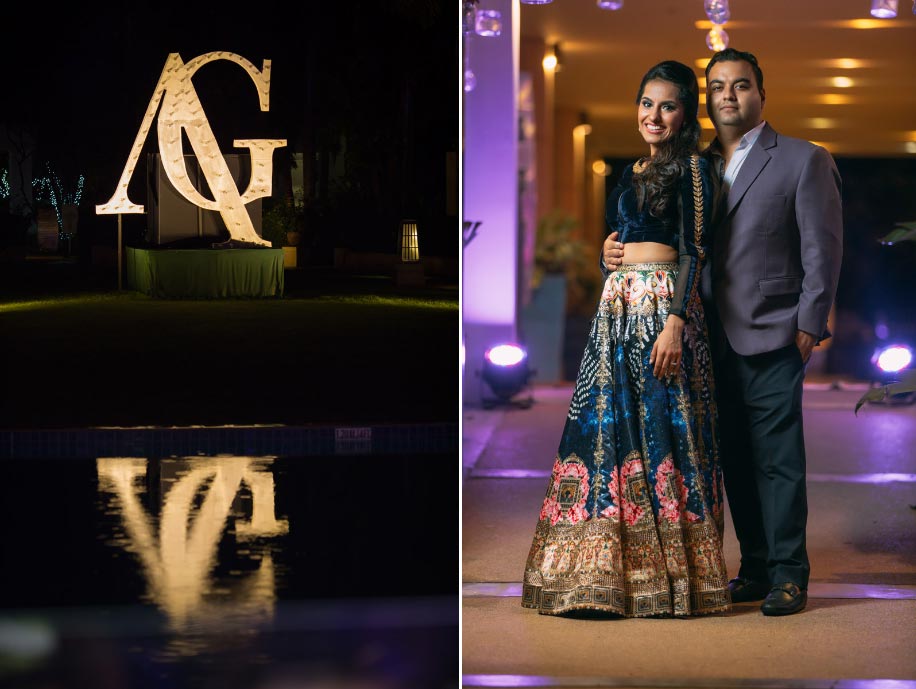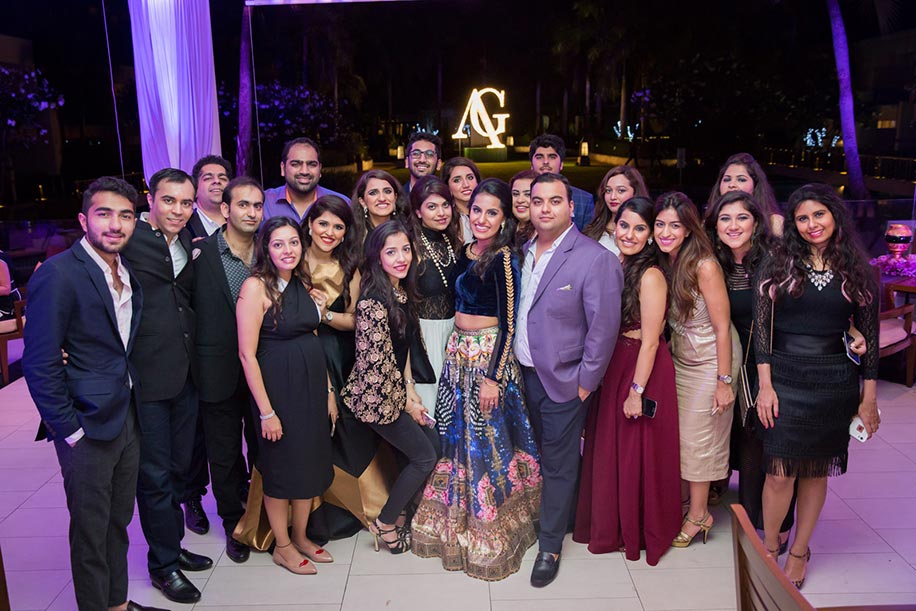 Make-up artist Simran Takkar and her Ablaze team worked their magic on Aditee and the families, while Trendi Salon made over the guests. "Both the groups were amazing and Simran is no less than a genius in her work," declares the happy bride.
The second day saw the mehndi ceremony get underway on the hotel's central lawns by the sea side. This event had a 'Picnic' theme with long brown tables with benches, checkered table covers and baskets on each table. The décor – with bright umbrellas and a cute signage – was perfect for this outdoor event. A food truck dished out the couple's favourite street treats from Dubai, and there was also a separate area to introduce guests to Gope's obsession with cheese. "We chose to enter in a traditional tuk-tuk that afternoon, and a saxophonist and DJ Jeff entertained our guests. We also had a Photo Booth with a personalised frame and some of our most used quotes," recalls Aditee. She was resplendent in a bright yellow ensemble with gold bodice from Dosakh, which was perfect for the sunny, cheery vibe of the event, while Gope looked dapper is a paisley-and-floral jacket over fawn-coloured kurta-pajamas from Just Men.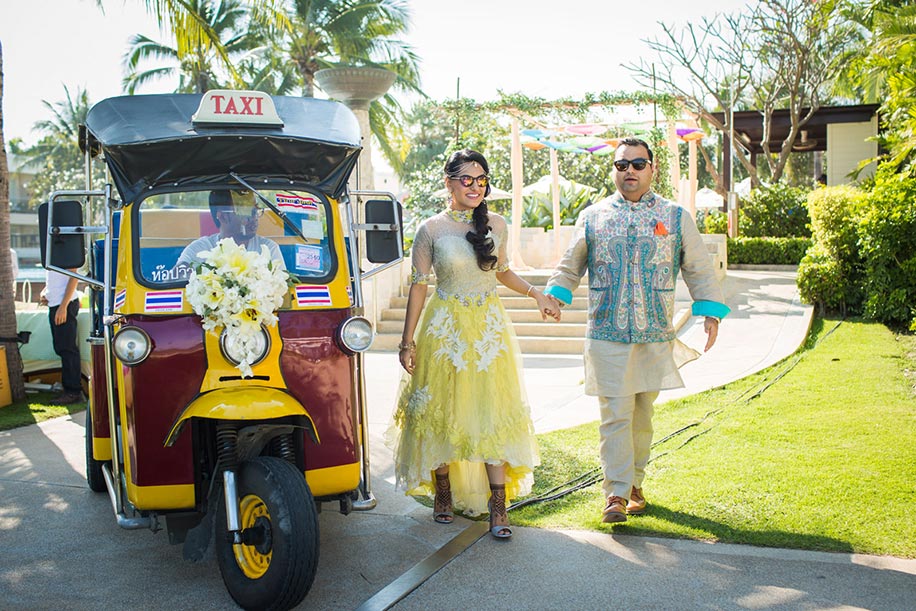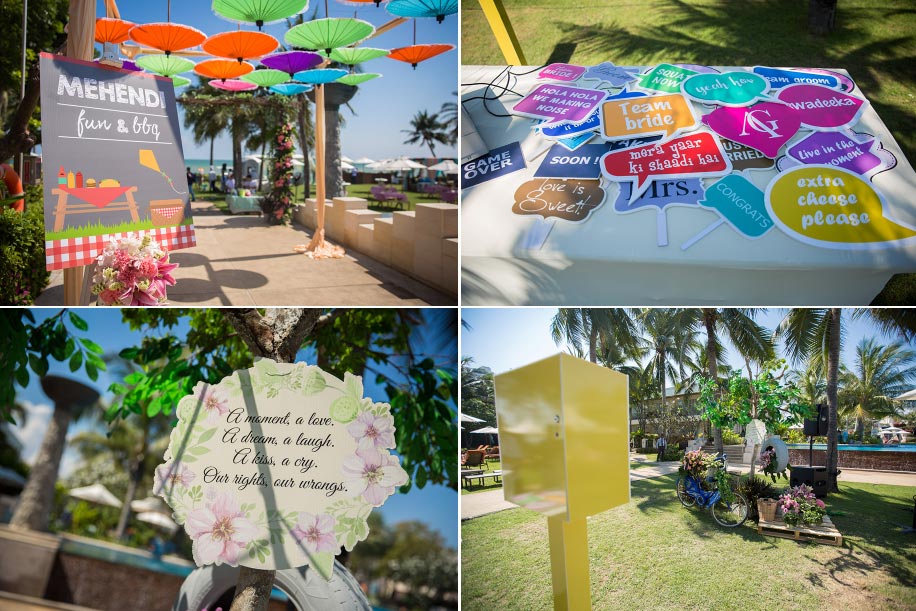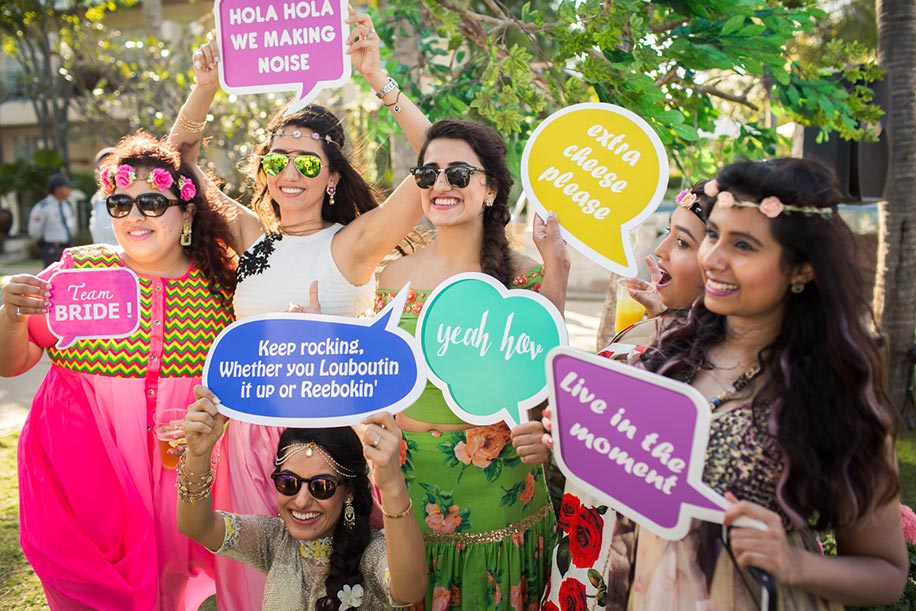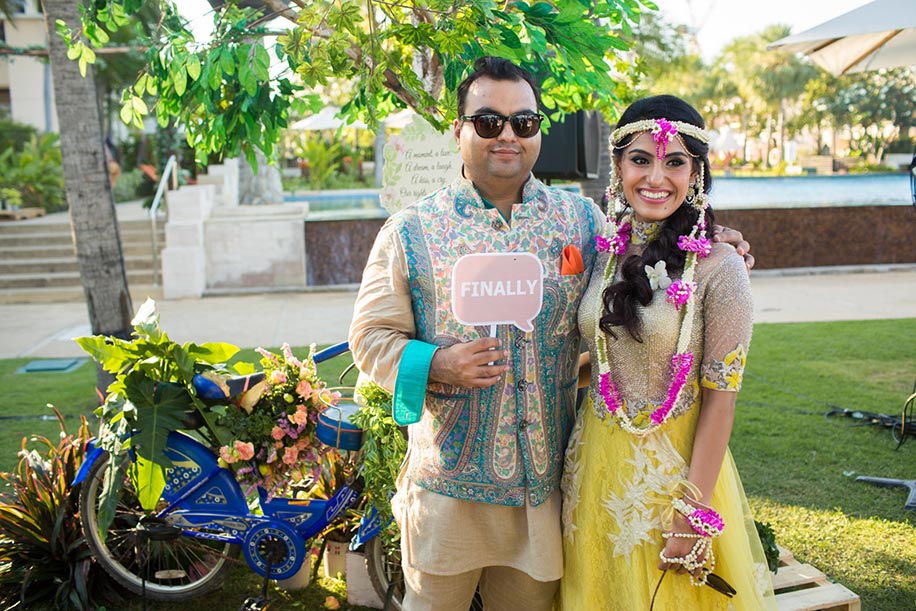 The sangeet ceremony that same night had a Moroccan theme, so the hotel's Grand Ballroom was decorated in colors of blue and purple, the bar was covered with an Arabian cutwork designs, and the centre table pieces were beautiful Moroccan lamps.
"Our friends welcomed us to the Grand Ballroom with a short dance on the track 'Dholi Taro' and we then proceeded with the engagement ceremony," recounts Aditee who looked like a princess in her white and silver ensemble by Varun Bahl.
A skit put together by family and friends was followed by the party that lasted till dawn. "Here we would like to make a special mention of the restaurant Beirut which catered all the food for this event. The Paneer Shawarma they served was over in no time!" exclaims Aditee.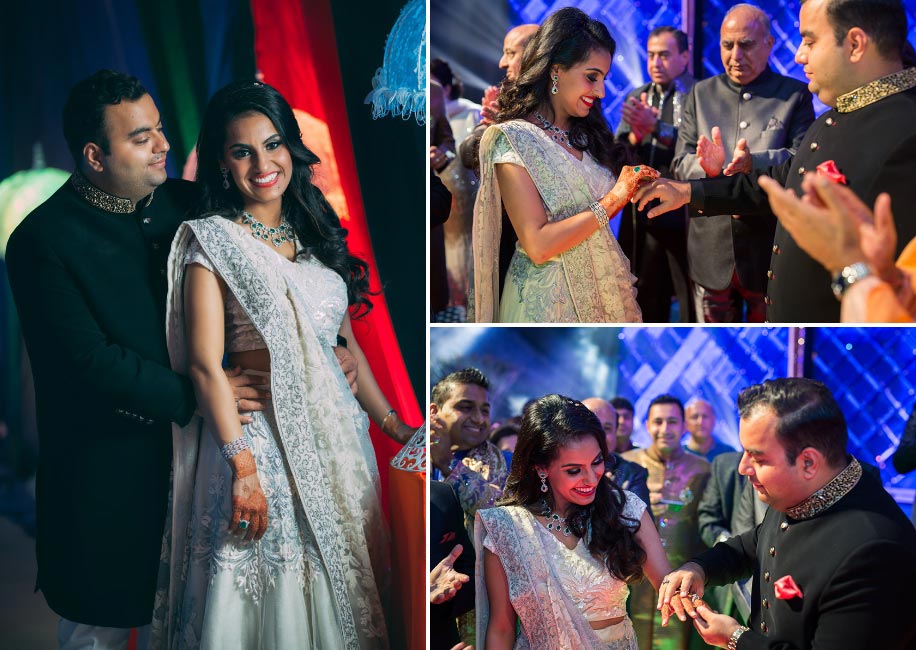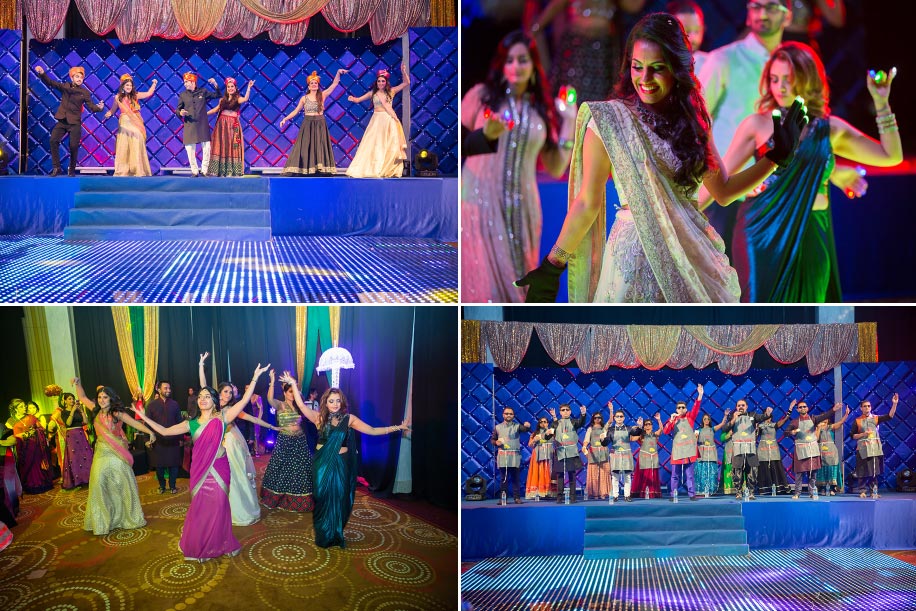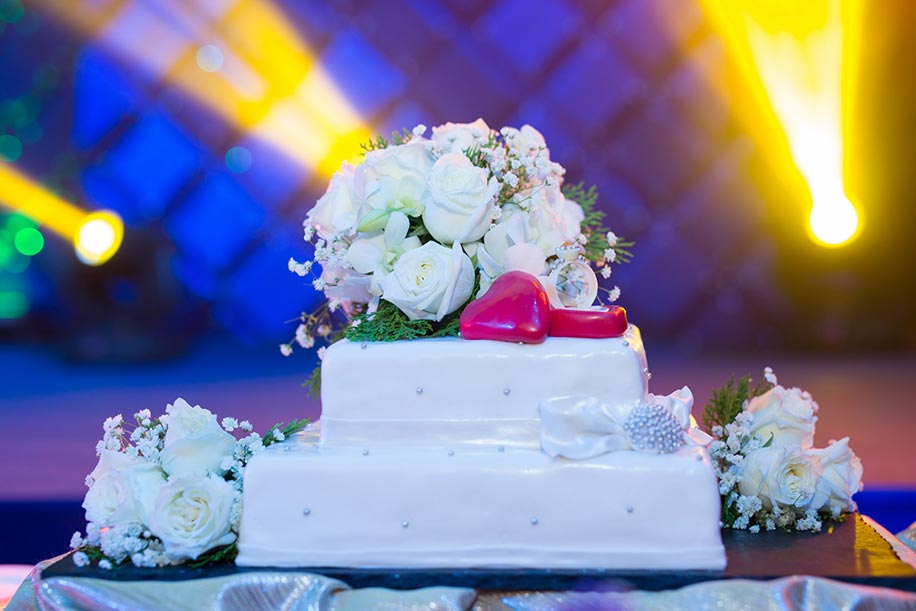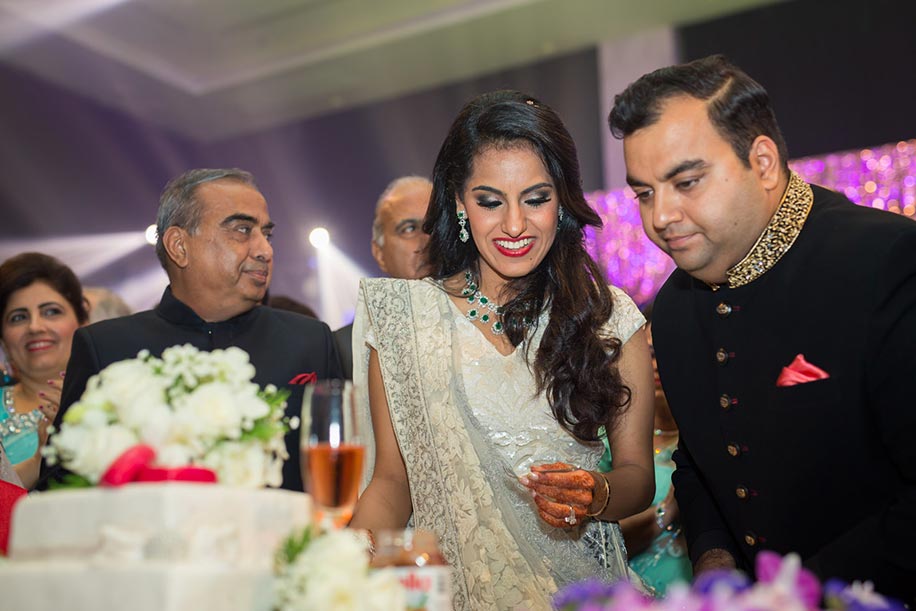 The wedding ceremony held on January 21 saw Gope and his buddies make an entrance in a vintage car with DJ Jeff spinning out Bollywood and R&B classics in the background. "We did a short ceremony and then made our way to the mandap as a live violinist played 'A Thousand Years'. The theme was red so the walkway was beautifully decorated with lamps, mirrored candle stands, elephants and the mandap had a dome shape like a temple."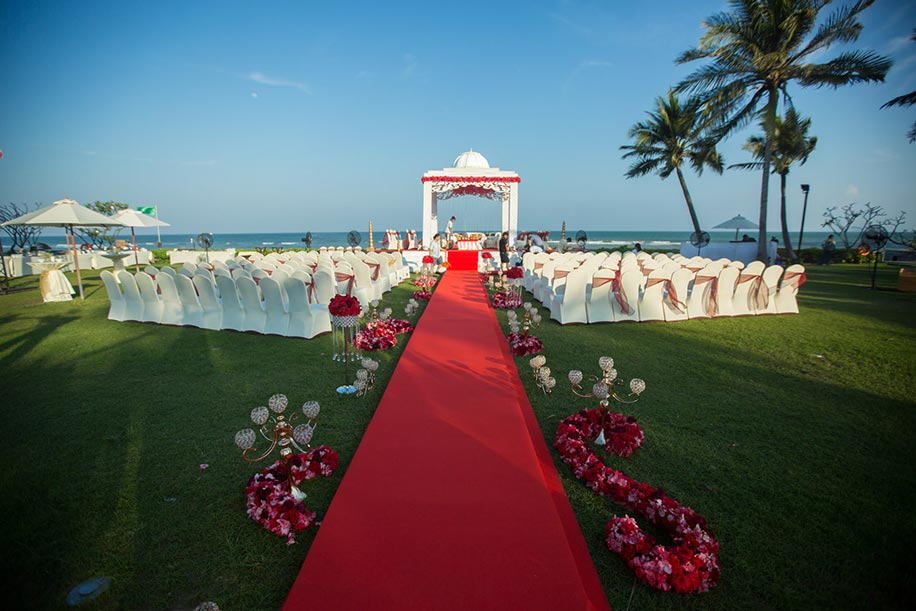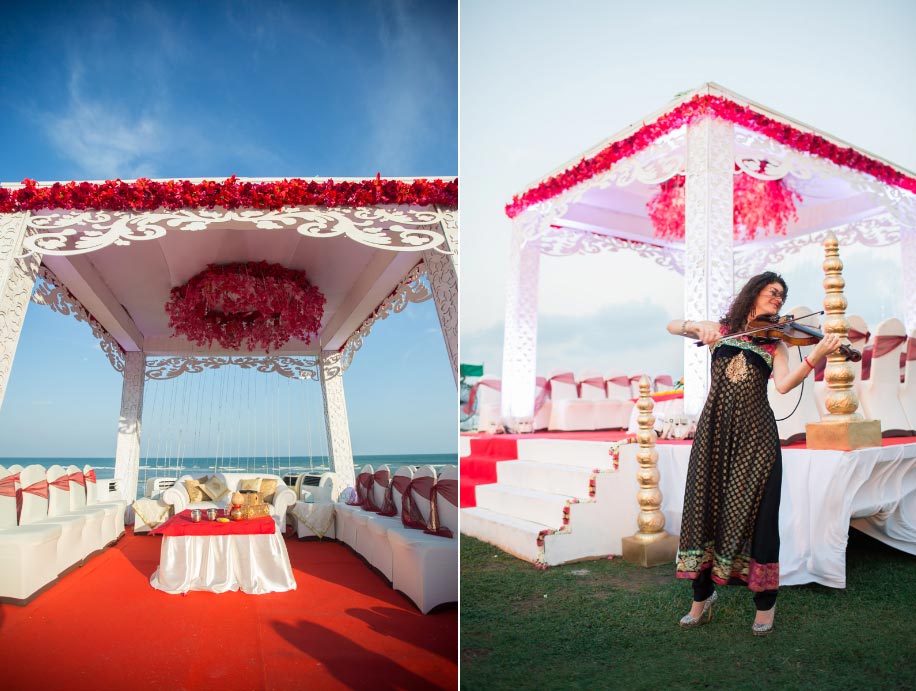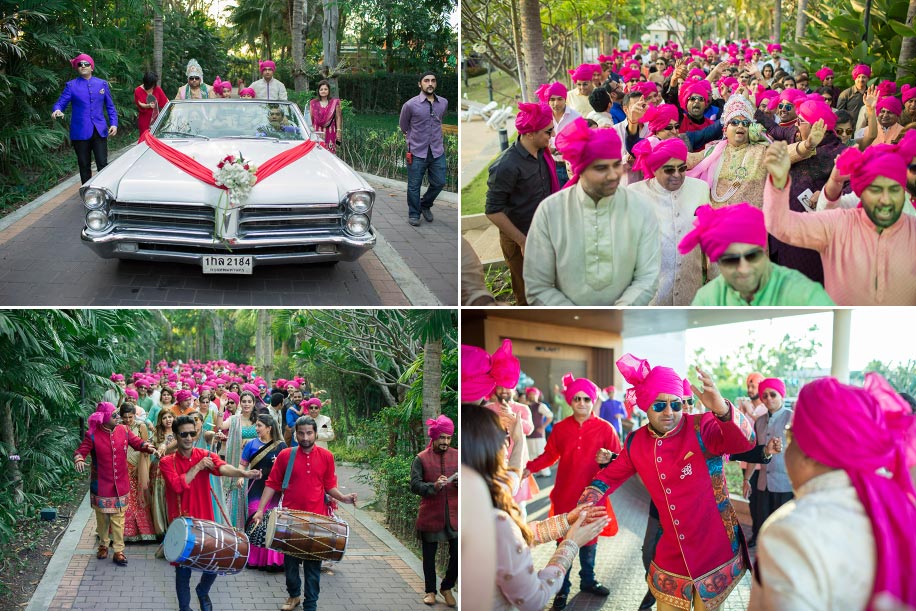 Aditee was striking in her deep maroon Sabyasachi lehenga with beautiful gold threadwork and polki jewellery, and Gope looked elegant in his light peach with all-over gold threadwork sherwani from Studio Mujhrosa and an ornate safa.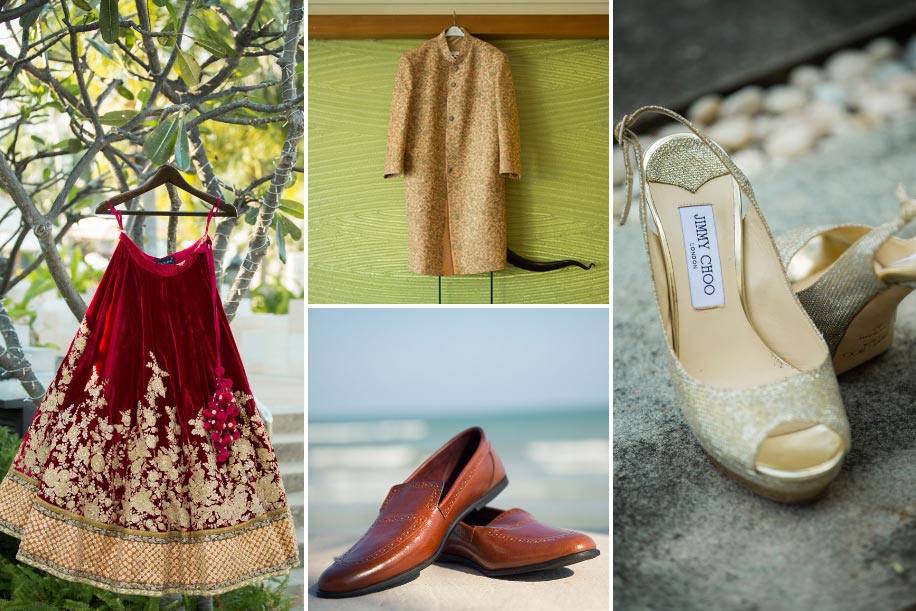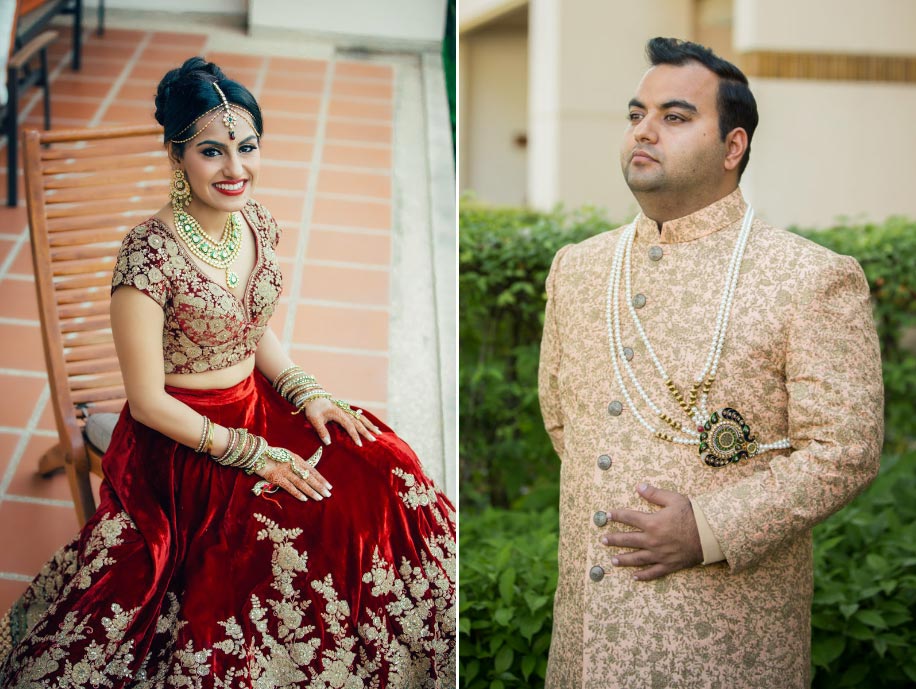 The pheras was immediately followed by the reception at the ballroom. "We made our entrance for the first time as Mr. & Mrs. Nagdev with all the lights out and the hall lit only by doily candles held by our friends and family. It was truly mesmerising. The color scheme for the night was silver and white and the stage backdrop was covered with candles on shelves. The night comprised of speeches by family and friends, a live performance by Dubai-based band Rooh, followed by DJ Jeff continuing the party till 6 am," adds Aditee. "Rooh – a band from Dubai – do great renditions of Bollywood classics and latest hits. We will never forget the private session the lead singer Anupam did for us from 6am to 8am to end the 'after party' and wedding festivities. It truly was a party to remember!" says Aditee.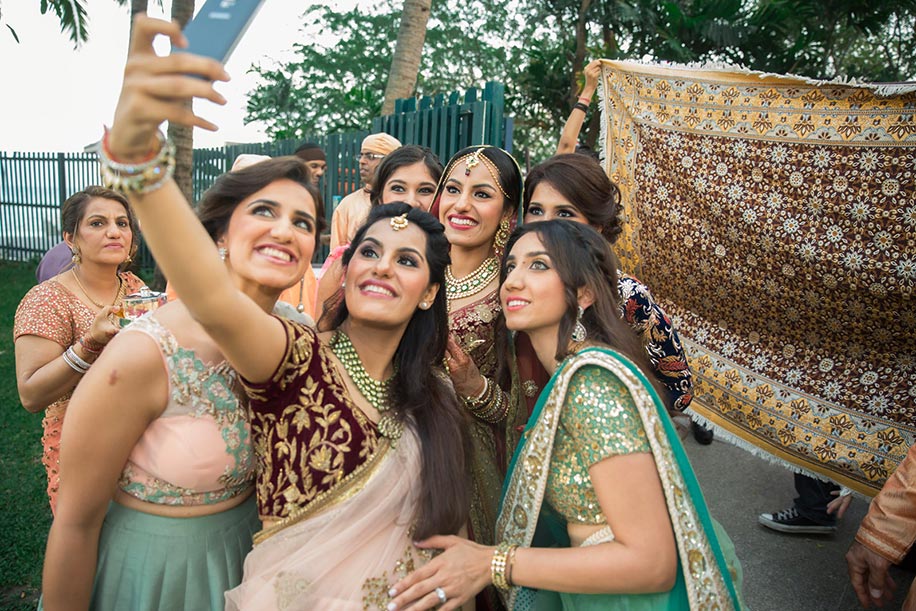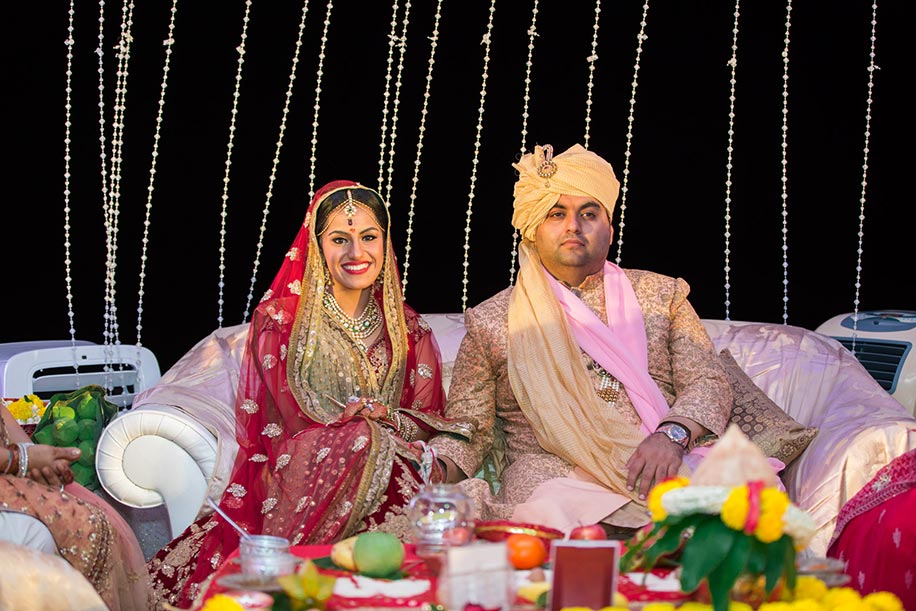 The couple did the majority of their shopping in Mumbai, though Aditee also visited New Delhi and picked up two outfits from there.
Venue: Sheraton Hua Hin, Thailand
Wedding Planners: Mantra Events, Sally Mangharam
Make-up: Simran Takkar & Ablaze, Trendi Salon
Groom's Trousseau: Just Men (Welcome Dinner and Reception), Studio Mujhrosa (Mehndi, Sangeet and Pheras)
Bride's Trousseau: Falguni & Shane Peacock (Welcome Dinner), Dosakh (Mehndi), Varun Bahl (Sangeet) & Sabyasachi (Pheras and Reception)